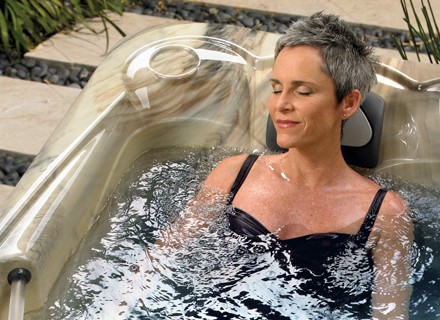 Unlike a pool your spa can be used all winter long even in the coldest of climates. For some of us winter is the best time to use a spa. Here are some tips to enjoy your spa all winter long.
Make sure your cover is in good working order. Old covers that stretch over time, or get tears in them are less efficient than a cover in good condition. If your cover is loose, or torn, or is waterlogged it is time to get a new cover. Most new covers will generally last around 5-7 years if it they are taken care of properly. Less expensive covers, like the ones you see online for $300 will last 2-4 years. If you are in need of a new cover we can measure your spa for a new cover that is ASTM approved.
If your cover is in good working order you can lengthen it's life by cleaning and treating it regularly. We like to use a UV303 Aerospace Protectant that will keep your cover from cracking under the sun similarly to sunscreen protecting our skin. This will lengthen the life of your cover greatly. (We also recommend using this on your cabinet to help protect against dry rot).
Listen to your spa and ensure that your pumps are not making any funny noises. If a pump breaks down in winter it can cause major problems. Check all around the spa for any leaks. A leak in freezing weather can cause expensive plumbing issues.
Change your filter at least once a year to ensure that your water stays clear and your water flows freely. A clogged filter can cause the spa to stop heating which can be catastrophic in winter. One of the most common causes of no heat we find in spas is a clogged filter. If the filter is clogged with microscopic debris and bacteria the water cannot pass freely through it and to prevent mechanical failure the spa will actually shut down to protect itself. If this happens in freezing weather you can have freezing issues.
If you are unsure of the viability of your cover, or of your spa's health set up an appointment to have your spa looked over by a service professional.
Lastly, while we love using our spas in the winter we understand that not everyone will use their spa in the wintertime. If you do not plan on using your spa have your spa winterized by a professional. Professional winterization will ensure that your spa stays safe from freezing during the cold weather. A professional will ensure this by vacuuming out every drop of water from the plumbing, jets, and pumps. Once they have emptied the spa of all water they will most often shrink wrap the spa to ensure that the winter weather cannot get in.